These vegan lentil tacos are anything but boring! Unlike other vegan taco options, this lentil filling is loaded with flavor thanks to mushrooms, chipotle, tomato sauce, and cumin. We have been making these budget friendly tacos almost weekly for taco Tuesday.
Something that our family implemented recently that has made meal planning for the week so much easier is themed meals. Do you do that? For example, every Tuesday is taco Tuesday and Sundays are pizza night, etc. The recipe doesn't have to be the same one each week so it still feels different even though it is the same type of dish. Why have we not done this sooner?!
Anyways, these vegan lentil tacos were born after we started our weekly taco Tuesday tradition. We had been making these seitan tacos pretty regularly, but I wanted to switch it up with an even more budget friendly staple – dried lentils. It took a couple of test runs, but I think I nailed the most delicious lentil taco filling!
Why You'll Love this Recipe
A simple lentil taco filling that is vegan, gluten free, dairy free, and egg free.
Pantry-staples like dried lentils, vegetable broth, and dried spices are the heroes in this dish.
The lentil filling for these tacos is freezer friendly so you can save leftovers for a future quick weeknight meal.
Use the lentil taco filling for all kinds of recipes besides just tacos! It tastes great in a burrito, taco salad, or nachos.
Ingredients You'll Need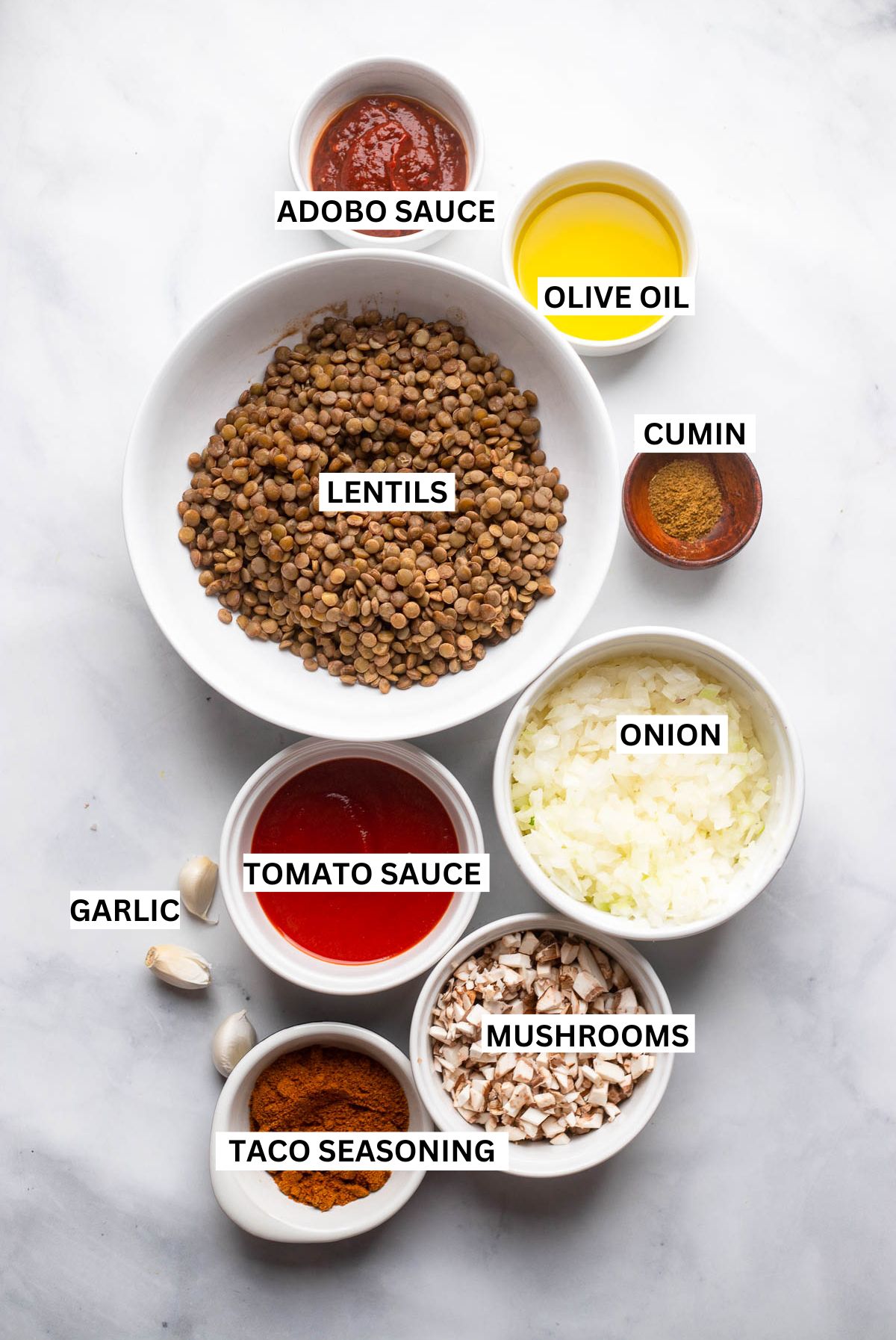 Brown or Green Lentils: Either variety of dried lentils will work in this recipe. You want to avoid red lentils as they will get too soggy for this taco filling.
Mushrooms: Add some texture as well as moisture to this simple lentil taco filling. We normally use button or baby portobello mushrooms for this recipe.
Vegetable Broth: Infuses the lentils with flavor as they cook. Use a low sodium version if you need to monitor your salt intake.
Tomato Sauce: Adds balance and umami to the lentil taco filling.
Chipotles in Adobo: We love adding these smoky/spicy peppers to our taco filling. You can skip if you would like or add a bit of liquid smoke and a tablespoon of tomato paste instead.
Spices: Taco seasoning and cumin add the rich flavors we normally associate with taco filling.
Step by Step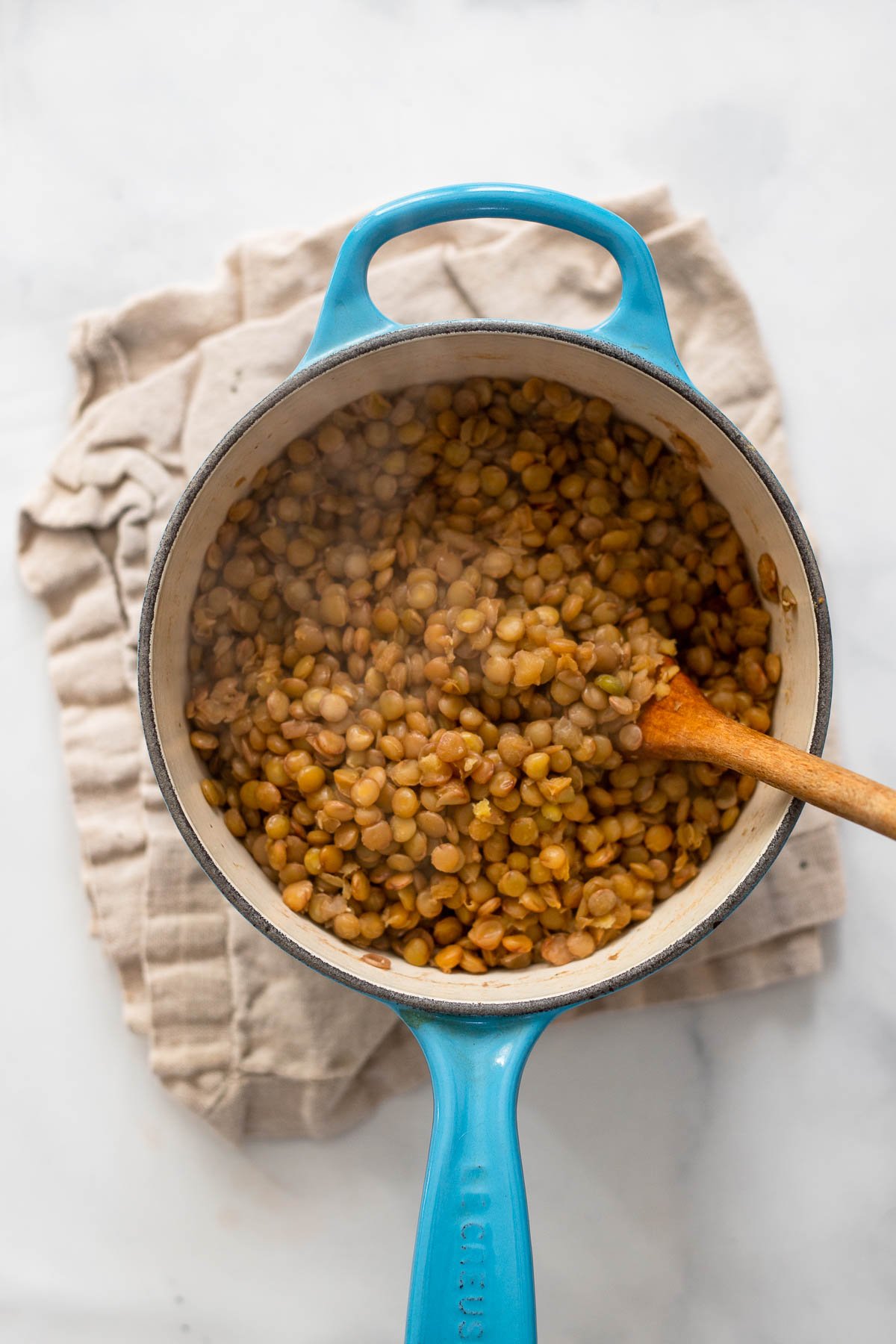 STEP 1: Add lentils and broth to a small saucepan. Bring to a simmer and then cover. Cook for 12-15 minutes or until lentils are tender and liquid has been absorbed. You can also save yourself a step and buy pre-cooked lentils.
STEP 2: Add olive oil, mushrooms, and onions to a large deep skillet. Saute until the onion is translucent, about 5 minutes.
STEP 3: Stir in the minced garlic, taco seasoning, and cumin. Cook for about 1 minute.
STEP 4: Stir in the cooked tomatoes, broth, tomato sauce, and adobo sauce. Saute until broth has cooked off and thick sauce has formed around the lentils. Taste and add salt if needed. (Some vegetable broth brands are saltier than others, so you may find you don't need to add any more salt at the end.)
STEP 5: Assemble your tacos.
Canned Chipotles in Adobo Tips:
To use, just dump the can in a small blender/food processor and blend until smooth. I like to use the blender cup from my Magic Bullet.
Store leftover canned chipotles in an airtight container in the fridge. We found that it usually keeps for a few weeks.
To store leftover canned chipotles longer, pour it into an ice cube tray and freeze until solid. Transfer frozen cubes to a bag and just toss into the pan/pot when you need them!
Toppings for Lentil Tacos
Avocado or Guacamole: We love adding fresh avocado to tacos. It adds creaminess so that you don't necessarily have to add a cheese.
Sour Cream: Use a dairy free option to make these vegan. I really like the vegan sour cream from Tofutti.
Cheese: Use a dairy free option to make these tacos vegan. I really like to use the Mexican blend shredded cheese from VioLife.
Hot Sauce: I love to add a few dashes of Cholula to my tacos but you can use any hot sauce that you like.
Pickled Red Onions: We almost always have a jar of homemade pickled red onions in the fridge since they go with just about everything!
Salsa: A spoonful of red or green salsa is great on these!
Shredded Cabbage or Lettuce: Add some crunch and a pop of color by adding some shredded purple cabbage or thinly sliced lettuce.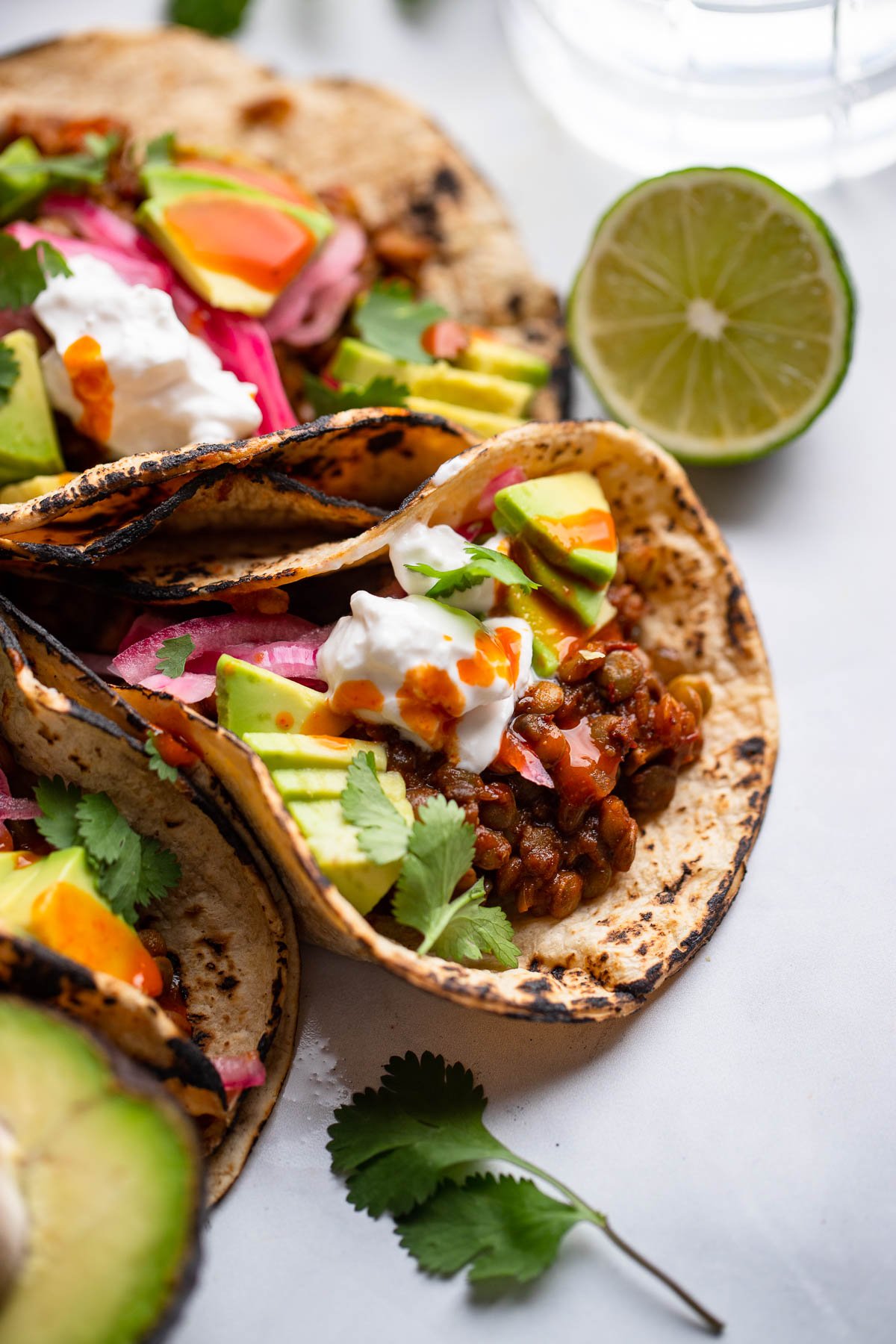 Make Ahead and Storage
Make Ahead: Lentils can be cooked up to 3 days in advance and stored in the fridge before using for this recipe. You can also use canned lentils for a shortcut.
Fridge: Allow leftovers to cool to room temperature and then store in an airtight container in the fridge for up to 3-4 days. Reheat leftovers in a skillet for a few minutes until warmed OR microwave for a couple of minutes.
Freezer: Transfer room temperature leftovers to a freezer-friendly container. Lentil filling can be frozen for up to 3 months. Allow lentils to thaw in the fridge overnight before using. Reheat in a skillet or the microwave for a couple of minutes before using.
More Delicious Recipes You'll Love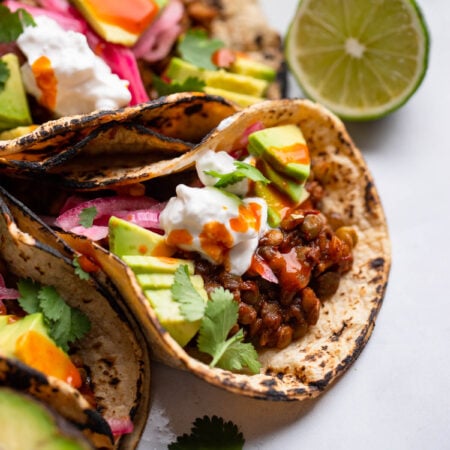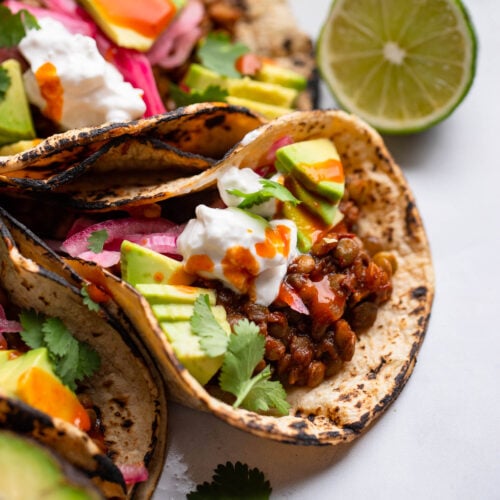 Vegan Lentil Tacos
Created by: Deborah Murphy
These vegan lentil tacos are anything but boring! Unlike other vegan taco options, this lentil filling is loaded with flavor thanks to the mushrooms, chipotle, tomato sauce, and cumin. We have been making these budget friendly tacos almost weekly for taco Tuesday.
Prevent your screen from going dark
Ingredients  
For the Lentils:
1

cup

brown lentils

2

cups

vegetable broth
For the Lentil Tacos
2

tablespoons

olive oil

1

cup

chopped button mushrooms

½

cup

chopped onion

2

cloves

garlic, minced

1

tablespoons

taco seasoning

1

teaspoon

cumin

½

cup

vegetable broth

1-2

tablespoons

canned chipotles in adobo sauce*

⅓

cup

tomato sauce

1/8

teaspoon

sea salt (if needed)
To serve:
Corn tortillas

Chopped avocado

Shredded purple cabbage

Salsa

Lime
Instructions
Make the Lentil Taco Filling
In a small saucepan, add the olive oil, mushrooms and onion. Sauté for about 5 minutes or until onion is translucent.

Stir in the garlic, cumin, and taco seasoning and cook for another minute.

Add broth, tomato sauce, and chipotle sauce. Sauté until broth has cooked off and a thick sauce has formed with the lentils.

To assemble tacos, add 1/3 cup of lentils to a corn tortilla and add desired toppings.
Notes
Adjust the amount of adobo sauce in your taco filling based on your spice preference. We like spicy foods so we use anywhere from 2-3 tablespoons adobo sauce.
To use the canned chipotles, add the full can to a blender cup and puree until smooth. Use in a variety of recipes – like this one!
Topping suggestions: avocado, sour cream, cheese, cilantro, salsa, hot sauce, shredded purple cabbage.
Nutrition information is for the lentil taco filling only as toppings will vary.
Nutrition
Serving: 1Taco | Calories: 272kcal | Carbohydrates: 38g | Protein: 18g | Fat: 6g | Saturated Fat: 3.5g | Polyunsaturated Fat: 2.5g | Cholesterol: 17mg | Sodium: 575mg | Fiber: 6g | Sugar: 5g
Reader Interactions