Sonia Sidle is the co-founder of J'adopte l'AIP, the first program created in French to guide people with autoimmune diseases to implement the AIP in six weeks. Sonia Sidle is a Functional Nutritional Therapy Practitioner (FNTP) and an AIP Certified Coach who works 1:1 remotely in French and in English, with clients suffering from digestive dysfunction and autoimmune diseases. She has put her autoimmune diseases into remission as well as her son's thanks to nutritional and lifestyle changes.
The AIP Lecture Series
RETIREMENT SALE! SAVE 70% OFF!
I am loving this AIP course and all the information I am receiving. The amount of work you have put into this is amazing and greatly, GREATLY, appreciated. Thank you so much. Taking this course gives me the knowledge I need to understand why my body is doing what it is doing and reinforces my determination to continue along this dietary path to heal it. Invaluable!

Carmen Maier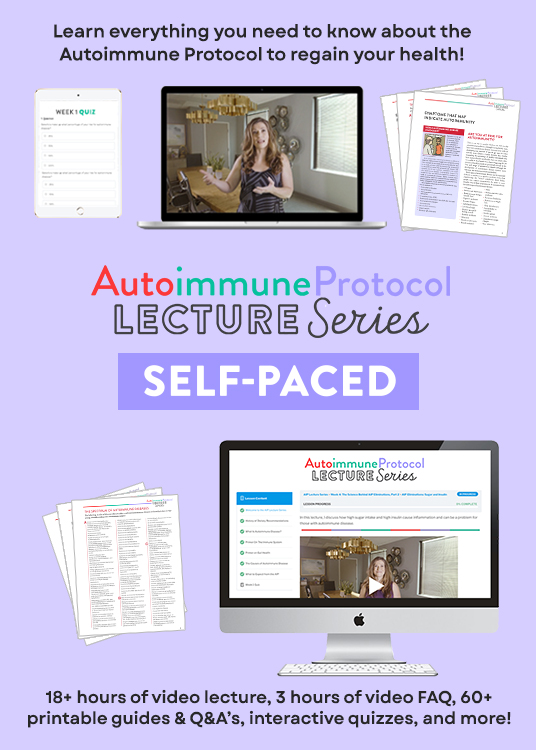 Thinking about joining the next session of the AIP Certified Coach practitioner training program? 
Classes fill up quickly so make sure to click here and sign up for my Healthcare Professionals e-mail list to get first dibs at enrollment for the next session!
---
Please share a little about your personal health journey and the role that the autoimmune protocol has played.
I was diagnosed with endometriosis in 2002 after suffering with  lots of pain since I was a teenager. It was nice to finally know what was wrong with me but unfortunately the only solutions that were given to me were surgeries and birth control pills. After a few endometriosis surgeries that helped me get pregnant and stay somewhat pain free, I got diagnosed with uterine cancer that was found during one of my endometriosis surgeries. I had to have a hysterectomy and was lucky that the cancer was found very early on and the hysterectomy was all I needed to take care of it.
*NEW* Nutrivore Weekly Serving Matrix
An easy-to-use and flexible weekly checklist
to help you maximize nutrient-density.
The Weekly Serving Matrix is very helpful! I've been eating along these lines but this really helps me know where to focus vs. which foods serve a more secondary role. It's super helpful and has taken a lot of worry out of my meal planning. Thanks!

Jan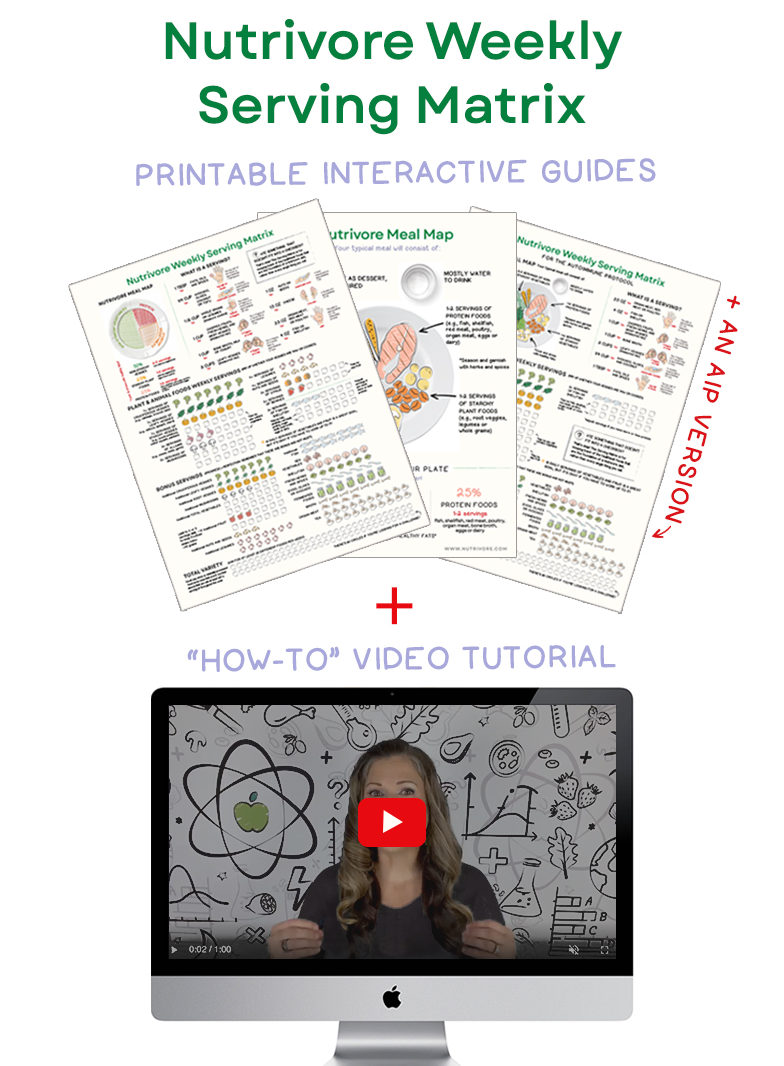 In 2002 I was also diagnosed with Hashimoto's. The doctor told me to take a thyroid hormone replacement pill for the rest of my life and that was it. He did not mention nutrition or lifestyle changes.
So I endured many years of autoimmune symptoms such as abdominal pain, migraines, weight gain, dry skin and hair, and brain fog. I eventually decided that conventional medicine was not the answer to my problems and found an integrative doctor who introduced me to the autoimmune protocol. Within three months of starting the protocol most of my symptoms started disappearing and I felt so much better.
What made you want to be a health coach?
My whole life I was always interested in reading about health. After my own experience with AIP and my son's experience with it (he was diagnosed at 11 with Hashimoto's and AIP helped resolve his symptoms), I wanted to tell the world about it! I decided then that I needed to change my career to become a Functional Nutritional Therapy Practitioner and an AIP Certified Coach. I wanted to help other people suffering with autoimmune diseases and chronic diseases get their life back!
Guide to Nutrivore e-book
Nutrivore is the simple yet revolutionary concept:
Choose foods to meet the body's nutritional needs!
I'm very excited about the Nutrivore information! Thank you so much for all your research and hard work you put into this kind of information for all of us to use!!

Debbie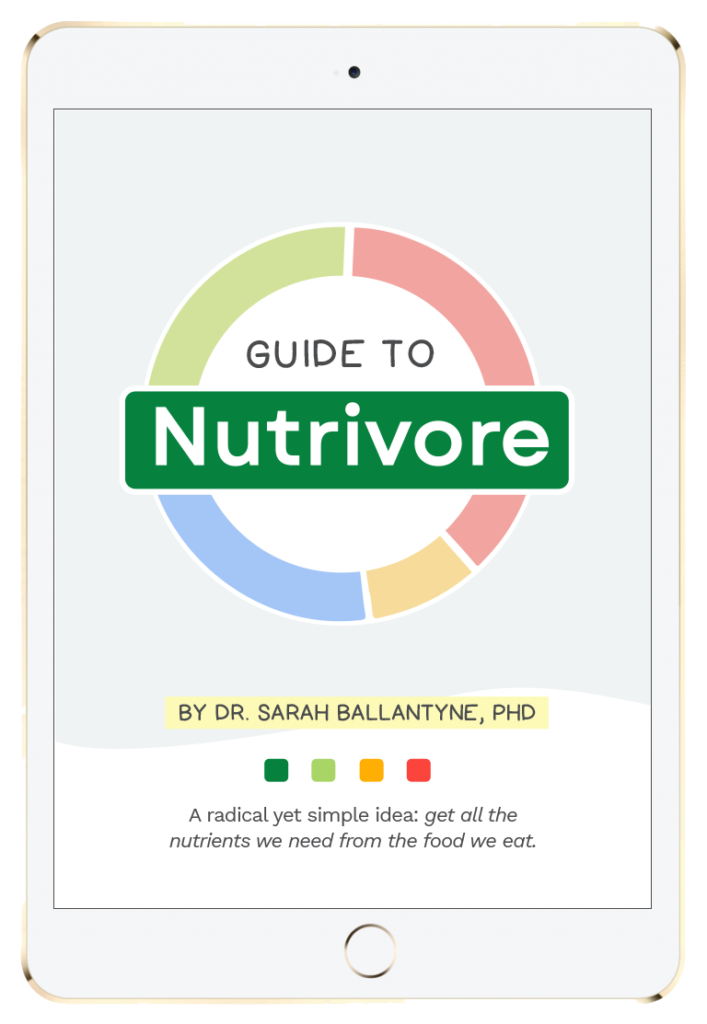 What certifications do you have, and why did you choose that program?
When I started looking at different programs in the field of nutrition, the course that caught my attention was the one from the Nutritional Therapy Association. I became a Functional Nutritional Therapy Practitioner because their program is based on a foundational holistic approach to nutrition that honors the bio-individuality of our bodies. They also promote a nutrient-dense, whole-food diet which is in line with what I did to get my health back.
As soon as I graduated from the NTA, although I had done the autoimmune protocol myself, I knew I needed to become an AIP Certified Coach to help as many people suffering with autoimmune diseases as possible.
After these two programs, I wanted to further my education and took several other certifications:
Functional Blood Chemistry Specialist: gave me the ability to order and read blood tests on a functional level.
Restorative Wellness Solutions Level 1: specialized me in the art and science of gastrointestinal healing.
Functional Supplement Specialist: helped me master supplements so I can recommend them to my clients
The Nutrivore Collection
Save $10 on Guide to Nutrivore and the Nutrivore Weekly Serving Matrix!
I never realized how important nutrients are and how intricately the body works! I can't thank you enough for sharing all your knowledge and insights.

Cheryl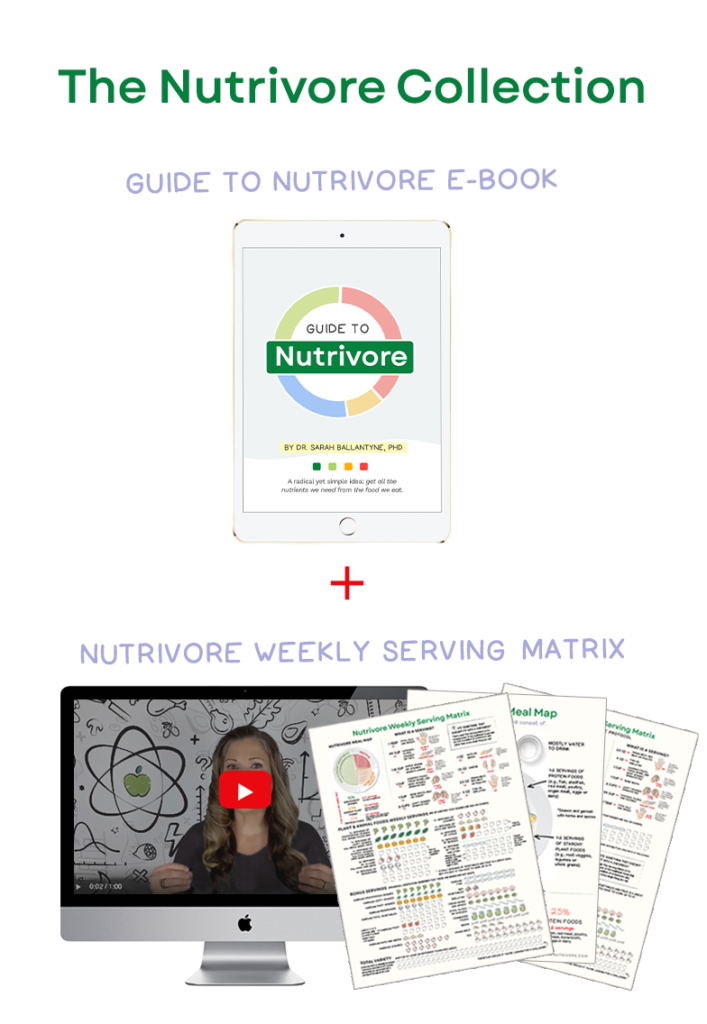 Share a little more about your practice. How can my readers contact you to work with you?
My practice, Your Wellness Revealed, is a bilingual practice (English and French), where I help people affected by autoimmune and digestive issues get their health back through nutritional and lifestyle changes. I use a bio-individual approach and work with people on their hydration (you would not believe how dehydrated most people are), digestion, food sensitivities to help heal their leaky gut,  to name a few.
My practice is 100% online and you can contact me at [email protected] I offer a 30 minute discovery call to make sure we are a good match for each other. You can fill out my discovery call form here. I also co-founded the program called J'adopte l'AIP with Ludy de Menten, a fellow AIP Certified Coach. Our program is the first French online program created to help people put the autoimmune protocol (AIP) into effect. We are really excited to be able to offer this new program to the French community as there are very few resources about AIP in French.
The Autoimmune Protocol e-book
Your practical guide to jump-start your healing with the AIP today.
One of my FAVORITE books I used to start the transition to AIP!!! It's so helpful! I printed mine out and spiral bound it. Thank you for this!

Rita Davidson
What is your #1 tip that you give all of your clients?
The #1 tip that I give to all my clients is to be patient with yourself. Your health did not fall apart overnight, it was a long process. So it will take time and work for your body to get its health back. But it will happen. Patience is key.
Interested in becoming an AIP Certified Coach?
If you are a healthcare professional interested in this high-value certification, join my Healthcare Professionals e-mail list by clicking here (I send an infrequent newsletter with content relevant to health & wellness providers).  I will e-mail you with more information on how to become an AIP Certified Coach.
Join!